Posted by Big Dave on August 20th, 2012
This was a considerable improvement on the last Quiptic by Pan that I reviewed, but I was a tad disappointed that the puzzle number failed to lead to Revelations about The Beast!
Most of the definitions given are from Chambers 11th Edition. Most of the standard abbreviations used in the wordplay are shown with the unused letters in brackets e.g. O(ld).  In common with the practice adopted by two of my fellow Quiptic bloggers, definitions are underlined in the clue and only included in explanations where further information is given.
Across
7a More sensible to admit old man is a philanderer? (9)
WOMANISER – a word meaning more sensible around (to admit) O(ld) MAN
8a King with something to sit on — up to now (2,3)
SO FAR – the abbreviation of the Latin for king is preceded by something to sit on
9a Fixed bet involving woman bedding duke in possible romantic encounter (5,4)
BLIND DATE – an anagram (fixed) of BET around (involving) a woman's name itself around (bedding) D(uke)
10a Snake in charge of jelly (5)
ASPIC – a charade of a snake and the abbreviation of In Charge
12a Flight from earth to space for a change (6)
ESCAPE – E(arth) followed by an anagram (for a change) of SPACE
13a Redesigned other map's symbol (8)
METAPHOR – an anagram (redesigned) of OTHER MAP
14a Special fish makes small shiny decoration (7)
SPANGLE – special can be abbreviated to S or SP, here it is the latter, then add a verb meaning to fish – in Scotland, special fish is fried in breadcrumbs
17a South Africa in tasteless campaign (7)
CRUSADE –  the abbreviation for South Africa inside an adjective meaning tasteless or vulgar
20a Strip girl of neckwear (8)
BANDANNA – a charade of a strip or ribbon and a girl's name
| | |
| --- | --- |
| | |
| | Möbius strip |
22a With which to clean up nasty smell in the Home Counties? (6)
SPONGE – to get an item used for cleaning up put a nasty smell inside the area of England containing the Home Counties
24a So-called hazard constituted by piece of meat (5)
STEAK – a verb that sounds like (so-called) to hazard or risk
25a Father making payments for housing and bringing up the kids (9)
PARENTING – a charade of a short word for father followed by the act of making payments for housing
26a Attracted to males and females, relative's an animal! (5)
BISON – a two-letter word meaning attracted to both males and females followed by a male relative

27a Soldier maintaining exotic pad for provider of sexy entertainment (3,6)
LAP DANCER –  a light cavalry soldier around (maintaining) an anagram (exotic) of PAD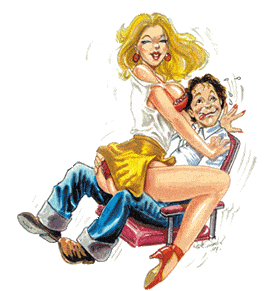 Down
1d Loads of pasta without parmesan at last (6)
OODLES – start with a type of pasta and drop (without) the final (at last) letter of parmesaN
2d Support for cardinal holding a battered tin (8)
MAINTAIN – the definition is to support as a verb – an adjective meaning cardinal around (holding) the A from the clue and an anagram (battered) of TIN
3d Instrument made by theologian during troubled life (6)
FIDDLE – the abbreviation for Doctor of Divinity (theologian) inside (during) an anagram (troubled) of LIFE
4d Second-rate editor with note given to setter on occasion of retirement (3,4)
BED TIME – a charade of the letter associated with second-rate, ED(itor), the seventh note of the scale in sol-fa notation and the first-person objective pronoun (setter of the crossword)
5d Drunk turning up with drink?  It's an even chance! (4,2)
TOSS UP – reverse (up in a down clue) a drunk and add a verb meaning to drink
6d Mother to set up mature plant (8)
MARIGOLD – a charade of a short word for mother, a verb meaning to set up and an adjective meaning mature
11d Celebrity hiding in Doctor's Tardis? (4)
STAR – this celebrity is hidden inside the clue
15d Prairie-dwelling insect finds banana (8)
PLANTAIN – an insect inside (dwelling) a prairie
16d Listened to advance unaccompanied (4)
LONE – sounds like (listened to) an advance of a sum of money
18d No thug is beaten for making lots of noise (8)
SHOUTING – an anagram (beaten) of NO THUG IS
19d Pester a mad antipodean to accept a period of fasting (7)
RAMADAN – hidden inside (to accept) the clue
21d After training, dog ran to intimidating woman (6)
DRAGON – an anagram (after training) of DOG RAN
22d Fixed dodgy date in deserted subway (6)
STEADY – an anagram (dodgy) of DATE inside S(ubwa)Y without its internal letters (deserted)
23d River in which bands of criminals conceal drug (6)
GANGES –some bands of criminals around (conceal) E (Ecstasy / drug)